We are thankful for Greg sharing the experience he and his sons have had at the Passage to Manhood camp, and we believe you will be blessed by their story as well.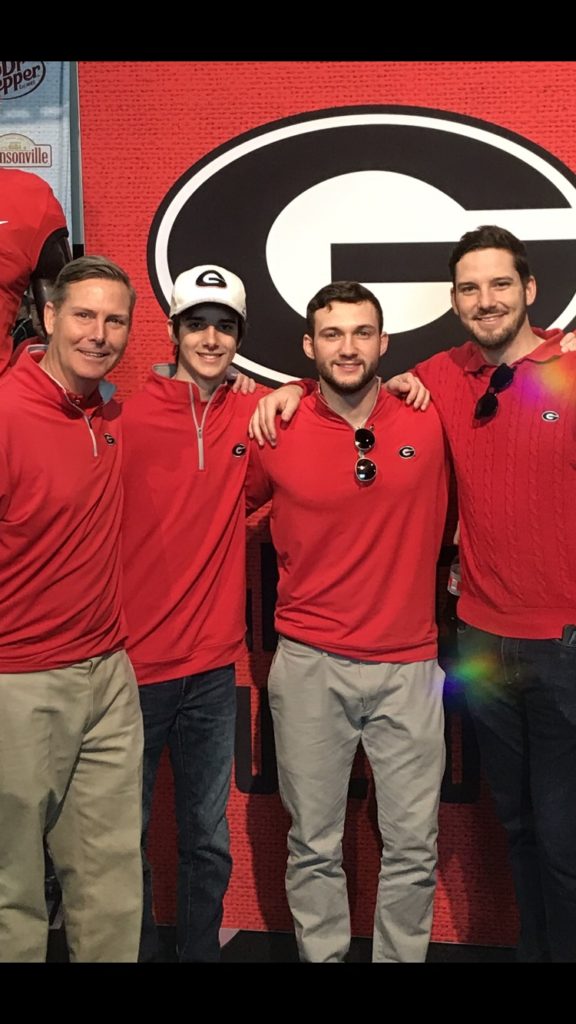 Greg Routt has attended our Passage to Manhood Camp twice so far: in 2018, when his oldest son Grayson was 26, and again in 2019, when his middle son Charles was 23. Greg and his wife also have one other son, Walker, now 14, that Greg looks forward to bringing to camp after he graduates from Roswell High School in 2024.
Greg learned about Christ in the Smokies before the first Passage to Manhood Camp even happened. In an effort to be a more "intentional dad" for his 12-year-old son, Greg had committed to reading Raising a Modern Day Knight by Robert Lewis in a small group with other dads at his church. The class was led by Christ in the Smokies director Tim Strickland, who Greg had met years earlier coaching youth football.
As Greg heard Tim and several of the other dads speaking about their incredible experience at Christ in the Rockies and how they were launching a more regionally convenient camp in the Smokies in just a few months, he listened with mixed emotions. He told the men how excited he was to take his younger son in a few years, but that he was also disappointed that he had missed the opportunity with his two older sons. He recalls how relieved and grateful he felt when all of the men shouted, "It's not too late!"
In fact, soon after that meeting, Greg received a phone call from Tim, inviting Greg and his oldest son Grayson to attend the inaugural Passage to Manhood Camp through a scholarship from the Taylor Strickland Legacy Foundation, which was established in memory of Tim and Toni Strickland's son Taylor, who was killed in a car accident in 2016.
"We humbly accepted, and the first year experience was so amazing with Grayson that the morning we left camp I called Charles and asked if he would attend CITS with me the following year," Greg remembers. "He agreed, and the rest is history… until Walker and I will attend in 2024."
Greg recalls he and Grayson were both a little nervous on the drive to Highlands, North Carolina, but that they quickly felt at ease after being warmly greeted by everyone at camp. And when Greg arrived the following year with Charles, he was even more excited, knowing what he and his son were both about to experience and the positive impact it would have in their relationship.
Going into camps with both Grayson and Charles, Greg's thoughts and hopes were directly tied to the Strickland's family motto, "Nothing left unsaid." "Grayson and Charles are brothers but both are unique, so our conversations were different," he explains. "But ALL of our expectations were exceeded when it comes to what we shared, learned about one another, and how we grew from four days together."
Greg gets emotional when he thinks about the rides home from camp. "On both rides, Grayson and I, and then Charles and I, felt an incredible amount of God's unconditional love for us, love for one another, peace, compassion, empathy, strength, power… It was just as special both times."
Something that made the home-going extra special was capping it off with a visit to Greg's parents, who live only 10 minutes from the camp. "We shared our experiences over lunch, and three generations toasted," Greg emotionally recounts. "Words can't describe my desire to repeat this same toast with my dad and youngest son Walker, four years from now."
Greg looks back on how his sons accepted his invitation to attend camp as a priceless gift. "They initially agreed as a favor to me," he explains. "Dads, don't be afraid to simply ask your son's for a favor… especially older 20, 30, even 40-somethings because it's not too late! I promise, after four days, the priceless gift to you will become mutually priceless, and this is for the rest of your lives."
Greg continues to encourage dads on why they should commit to attending Passage to Manhood Camp. "Don't overthink it because you and/or your son are busy with work, sports, vacations… There are so many reasons we can all think of to say, 'No, it's not a good time.' Many of the reasons, whether we know it or not, are tied to our natural desires to stay in our comfort zones. My sons and I were busy, and we love our comfort zones, but luckily for us, we trusted and committed. We will be forever grateful to Christ in the Smokies."