written by Mike Tiemann, Christ in the Smokies committee member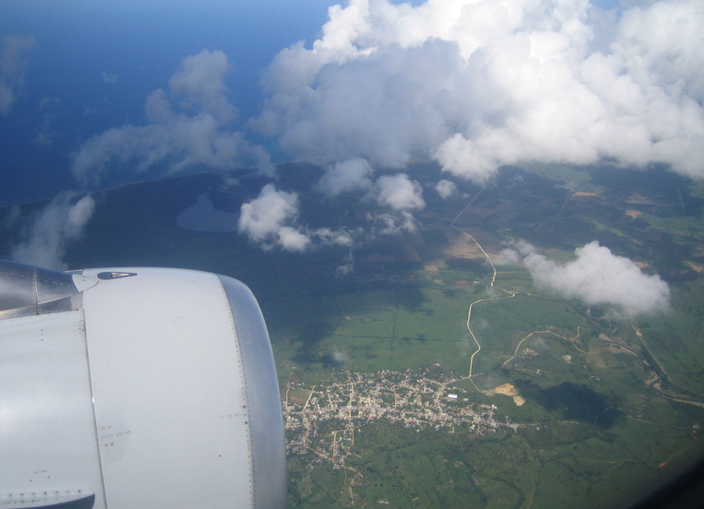 This view comes to you from our final descent into Punta Cana, Dominican Republic, in the summer of 2005. I was a 26-year-old at the time, and my wife Julie and I had been married almost four years.
I had decided to put my faith in Christ a few years prior, but it was during our early married years that my relationship with Him really began to grow.
Julie and I tried new things together as we got more involved at church. One Sunday, we saw a bulletin announcement asking for volunteers in the preschool ministry. She'd get to sing, and I'd get to play guitar. It was a no-brainer, but it still took me a while to warm up to the idea. After all, it's one thing to ATTEND church, but a big step to actually participate—especially when you've never been part of something like that before.
As you can imagine, we loved every minute of those days as wandering minstrels in the preschool halls. That lasted for a while… and then came the invitation to another big step of faith. The church was asking for volunteers to serve on short-term mission trips.
A missionary? What does THAT look like? To someone who didn't grow up in the church, it seemed like too big of a step—and definitely not a comfortable one. But in the end, we took that leap, together. It turned out to be one of the most rewarding decisions of my life.
We met a group of smart, caring, devoted friends of all ages—some of whom we're still in close touch with today. We started as a team, but we ended up as a family. We didn't show up to push our agenda or beliefs on others. We came alongside a local church in the D.R. that was already doing great work to reach and serve its community.
We got to know people in another culture who love and follow the same God we do. It expanded my idea of God Himself, as I saw firsthand how He was working in the world, in ways that were both similar to and different from my own limited experience.
I still look back fondly at that very first mission trip, and I think of what I would have missed if I had said no. I then trace it back to those Sundays singing with the preschoolers at church, and how that gave me the confidence to be able to say yes to the D.R., years later.
It seems we can always find reasons to push back and resist what God is calling us to do. But if we learn to trust, we might find ourselves somewhere we never imagined we'd be. We'll look back on a bird's-eye view of our own lives—and we'll see how He was with us every step of the way.