Name: Mike Haddorff, Christ in the Smokies and Christ in the Rockies (CITR) Teaching Leader
Role(s): Director of CITR
Volunteer superpower: Memorizing everyone's name before meeting them!
What others are saying about Mike:
Mike has the gift of teaching; his love for Jesus and each man standing in front of him allow him to connect deeply at the soul level. In love, Mike shares deep wisdom that men receive as truth, and that is what transforms us. Mike is approachable, wise and is full of empathy; he exudes the love of Christ. One-on-one or in group, Mike speaks love and truth that compels each person to take one giant step towards Jesus and one giant step forward with their earthly father or son. The love of Christ is irresistible. This is why each session is packed, conversation is lively, and transformational truth is revealed. One of the most powerful moments I have ever experienced with Mike is when he stopped a class to pray for a father and son. He pulled them to the center of the room, and we gathered around them, putting our hands on them as we all took turns praying.
-Scott DuBois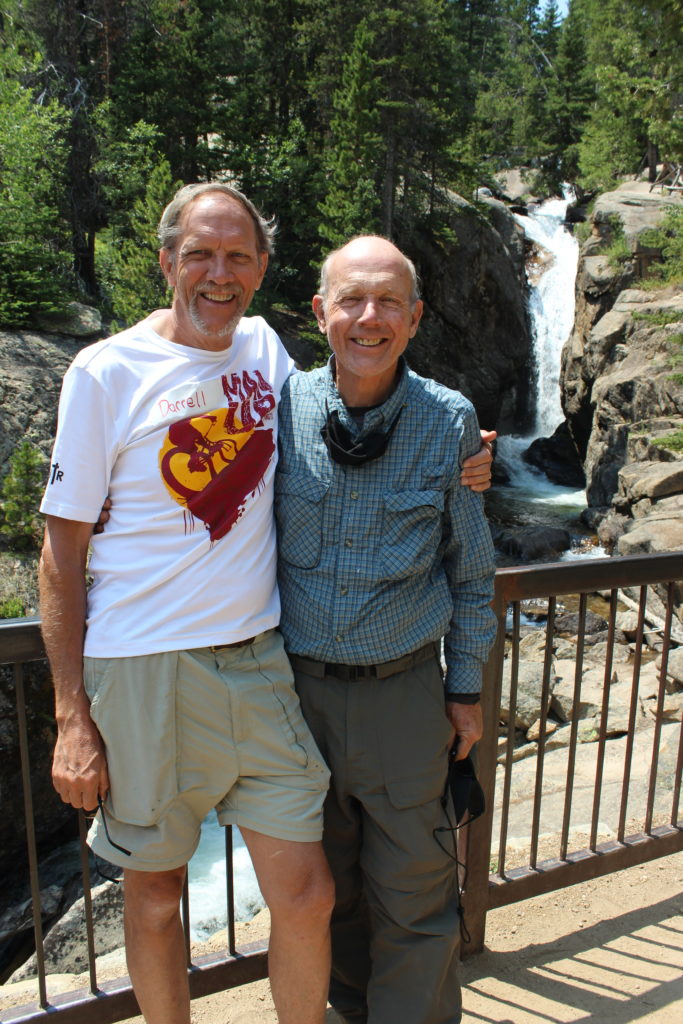 Mike is dedicated to teaching fathers and sons how to grow into equal men of God with a renewed closer relationship with God and each other. He genuinely cares, and it shows. Mike is kind, outgoing and intelligent, with a gift for teaching. You can see changes happening in lives with his ability to share/teach the principles of the Passage to Manhood Camp in a way that comes to life.
-Greg Dyson
Mike is kind and humble, yet strong and filled with the Holy Spirit. Mike has a great sense of humor, a twinkle in his eye, and time for everyone. As Teaching Leader for Christ in the Smokies and Christ in the Rockies, Mike's role is the cornerstone of our ministry. He models Jesus for the other volunteers, as well as the fathers and sons, because his will is the Father's will—to serve and love others. Mike is serious, intentional, caring and also a lot of fun. He is a wealth of knowledge, but also a vault of great human stories because of the life he has experienced through his service to God. Mike is like a warm fire, that once you are seated next to him you want to hear more and more. Mike makes camp successful because before he even arrives, he is prepared and open for whatever the week brings. Mike is ready to pivot and be flexible in any situation because that is what is required when loving others—and no one knows that better than Mike. Mike holds multiple camps in Colorado at Christ in the Rockies, yet selflessly travels to Christ in the Smokies each summer to serve and support the team. He is the jewel in our crown!
-Toni Strickland
Mike is a humble servant who consistently puts other's needs ahead of his. There's no posturing or pretenses here. Rarely can you find a man as genuine: Mike is the same person in private as he is in public. Mike's gift of teaching has evolved over the years into a refined and compelling call to men of all ages to enter into and grow in authentic Godly manhood. Even after decades of exposure to his teaching, I'm still challenged anew every year. It just keeps getting better! It's hard to keep this man down. Barely able to walk and with impaired vision, he was back at his beloved sport of fly fishing within a couple short weeks after a devastating stroke!
-Darrell Schoenig
Mike really cares for others. Mike also loves investing in the success of others. Mike gets to know each of the camper attendees at a personal level. He is very deliberate in memorizing each person's name before camp. He loves to tell stories and enjoys the adventures. Mike wants each person to know that they matter. I remember Mike walking around camp before the fathers and sons get there, saying their names out loud to make sure to memorize the names. Mike's wisdom and understanding of the masculine journey is very deep and rich. He is excited to share this with the fathers and sons. Mike is a passionate man and loves others well! Mike is a trusted friend and mentor to those of us on this path with him.
-Tim Strickland
Thank you for your service to the fathers and sons at Passage to Manhood Camp, Mike!